Hacemos La Ciudad (We Make the City) in Brownsville, Texas; a comprehensive civic reimagining initiative in partnership with professors from University of Texas Rio Grande Valley Center for Mexican American Studies. A yearlong schedule of movement workshops, performances, art installations, and charrettes will consider the mind, heart, hands, and body of Brownsville. The aim of these events will be to examine and question how colonial ideology has informed the existing architecture and infrastructure of the city, and also to offer an opportunity for local residents to imagine a decolonized civic landscape and infrastructure. The project culminates in a Plan de Arte Cívica del Pueblo Entero (Civic Art Plan of the People).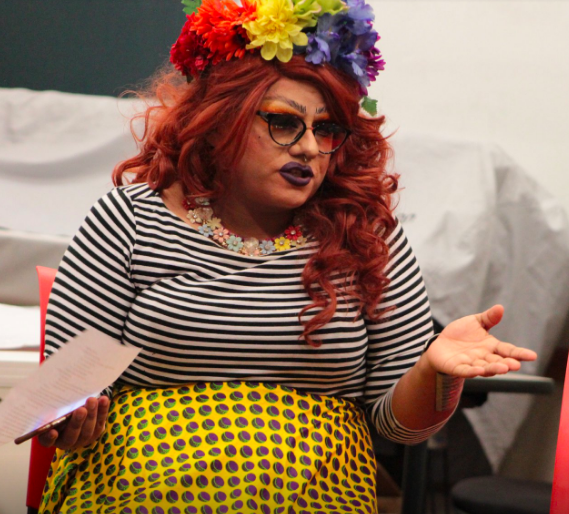 Why Hacemos?
In late 2017 Las Imaginistas attended a community rally against the anti-immigrant law SB4. The group was moved by the words of the community leaders at the event and invited them to a healing and dreaming circle. At the event activists soaked their feet in bath salts and imagined how the community would be different if their community could design it.
They drew illustrations of what they would build and shared stories of how they were being impacted by the growing anti-immigrant aggression in our state and along the border. The event led Las Imaginstats to imagine how community voices and knowledge could be incorporated into city planing.
Influenced by traditional planning processes (Robert Moses and the Panorama of New York) and more radical processes (The People's Cultural Plan) the Imaginistas developed the project concept for Hacemos La Ciudad.
How it Works
The project is divided into four phases: Head, Hands, Body and Heart. The first three phases explore different ways of knowing and relating to the world. With the information gathered from community partners during the first three phases Las Imaginistas will create a Plan De Arte Civico Del Pueblo Entero (A Civic Art Plan for All the People).
HEAD
Brownsville is a city named after a military base that the US government used to seize land from Mexico. This phase of the project consisted of a three part lecture/ workshop series focusing on the Past, Present and Future of equity in Brownsville.
HANDS
Understanding that is gained through making is often undervalued in planning processes and thought to be secondary to verbal knowledge. In collaboration with urban planner James Rojas this phase brought residents of Brownsville together to build what they wanted to see in a more equitable version of their city.
BODY
Experimental, body based (somatic) knowledge can often be left out of planning processes. We wanted to know what residents could tell us not only about what their body feels and knows about the existing Brownsville, but also about the future, more equitable version of the city.
The Plan de Arte cívico Del Pueblo Entero
Hacemos la Ciudad culminates with the creation of The Plan De Arte Cívico del Pueblo Entero (The Civic Art Plan for All the People). The Plan is divided into three different books, each directed at a different audience: 1) BODY is directed at individual residents of the City of Brownsville; 2) THOUGHT is directed to self identified thought and culture leaders; 3) LAND is directed towards city leaders and elected officials. Each book includes a series of recommendations describing how the respective audiences can work to build a more equitable version of the future of Brownsville. The Plan is divided into three parts because we believe it will require all three parties to successfully build a more just version of the city. All audiences are welcome and encouraged to read all three parts of the Plan, and in 2020 we will launch a series of reading groups and comités (committees) to take forward the principles and ideas set forth in this Plan.
Hacemos La Ciudad is made possible through a fellowship with A Blade of Grass. You can read more about A Blade of Grass and Las Imaginsitas Fellowship here. You can learn more about Hacemos La Ciudad events at our Happenings page.